Dress hire | Free delivery & dry cleaning
A Different Valentine's Day List
If you're anything like us, right about now you're wandering around in disbelief, wondering where the entire first month of 2018 just up and left to. It only seems like yesterday when we were drinking champagne and making well-intentioned resolutions for the year ahead - the next thing we know, we are staring down the barrel of 328 days of hard work, facing the reality that we are six weeks into the new year, possibly with very little to show for it.

If you've been anywhere around the internet during the past six weeks, you'll have noticed a strong prevailing theme popping up everywhere from Instagram to Reddit. That of self-care. Now normally, the latest internet trend is something that we here at Never Twice want to steer ourselves firmly away from - especially when it has anything to do with the latest challenge going around promoting the consumption of things that are clearly far from edible - but this is one trend that we are more than happy to jump on board with.

For far too long, society has been pushing us to rush, rush, and rush some more, being all things to all people, over-promising and over-delivering till we collapse with exhaustion. But you can't pour from an empty jug - we need to look after ourselves first so that we have the energy, strength and confidence to do all that life demands of us - from exams and classes, to smashing that presentation at work, to running around after kids, or facing whatever else it is that fills our days (and often nights). It is vitally important (for both yourself and those around you) that you take time for yourself, whether on a daily or weekly basis, to renew and recharge, so that you face your own challenges refreshed and be the #bosslady we all know you are!
Self-care can take many different forms, and there really is no right or wrong way to look after yourself and be the best you there is. But seeing as this is the lead-up to Valentine's Day (how is that even possible?!), we thought it would be great to multitask (as we all love to do) and hit you up with a few double-duty budget friendly ways to show yourself some self-love, as well as making you look and feel perfectly date-ready and confident come V-Day.

Bathtime Bubbles.

Our absolute favourite way to wind down after a nightmarish day is a long, hot soak (bubbles are essential, of course!). Whilst being something that most people tend to relegate to cold winter days, baths have a whole lot of benefits that we shouldn't ignore during the warmer summer months. First and foremost, the warm water instantly helps to relax tense, sore muscles, making those hours spent hunched over a keyboard feel like a distant memory. We love adding a few drops of our favourite essential oil (these days, definitely lavender) - the gently scented steam and water plays a huge part in helping to relax your mind and unwind, melting away the stress of the day. Try to steer clear of your phone during this time - the forced relaxation and isolation really does work wonders!

While you're in the tub, don't forget to give yourself a good all-over exfoliation. Slather on your favourite moisturiser once you jump out (while your skin is still slightly damp), and you're all set to apply your tan in a day or so.

Good Hair Day.

Another firm favourite self-care technique for the Never Twice team is carving out time for a serious hair pamper session. While nothing beats a salon wash and blow-dry, we love a DIY hair treatment. After detangling your hair, rub a couple of tablespoons of slightly warm olive or coconut oil through the lengths of your hair, comb it through and wrap it all up in a towel. After 20-30 minutes, wash it all out in the shower, being sure to scrub all traces of oil from the roots of your hair Allow to air-dry or blow-dry for silky smooth locks that are all ready to be styled next Wednesday. Repeat this once every 3-4 weeks, even whilst you're in the bath (Spa Day!), and you should find a noticeable difference in the texture and manageability of your hair.

Facial Frenzy.

We all know our skin is the first to show it when we've been stressed out - breakouts, dullness and dehydration can be a telltale sign that you're not looking after yourself as well as you should. Be sure to treat your skin to the care it deserves, so that you're feeling and looking fantastic every day. The number one rule here is that all makeup MUST come off before bedtime, no matter how tired you are. Incorporate this into your daily routine, making it a ritual to spend a few minutes relaxing and looking after your skin at the end of each day. This is a great way to signal to your body that it is time to start unwinding for the day and preparing for a revitalising night's sleep. Setting time aside for a proper double cleanse, treatment and moisturising is ideal, but a quick swipe with some micellar cleansing water is fine for those days when the alternative is a night spent rubbing full coverage foundation and your eyebrows off onto your pillowcase.

Make sure you're not mindlessly picking and scratching at your face when you're stressed - if you avoid touching your face as much as possible, you're well on your way to helping minimise those avoidable breakouts.

Our favourite these days for when our spirits and skin need a bit of a boost in a hurry is most definitely sheet masks. Grabbing a few suited to your skin concerns on your lunch-break from Priceline is an all too easy way to schedule in some you-time that evening. Add in the latest episode (or three) of your current favourite show, and it sounds pretty much perfect to us!

For more intensive pampering and skin care prep that would be ideal in the lead-up to Valentines Day, we are totally crushing on the Lonvitalite The Selfie Prep Kit ($42 from Adore Beauty). Incorporating 7 different face masks, including a collagen and gold lip mask, this kit contains everything you need to brighten, tighten, refresh and revitalise your skin in a hurry, whilst gently forcing you to take some time out for yourself each day.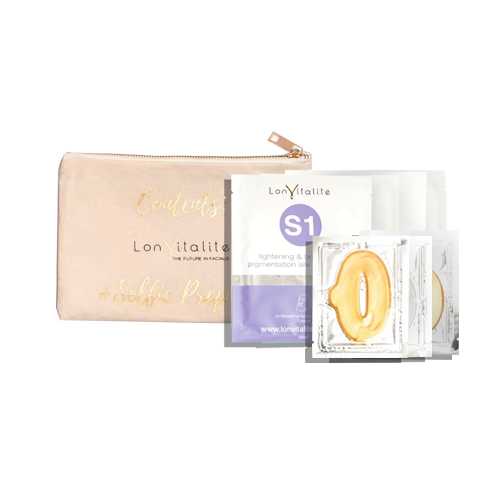 The bottom line here is it's all about incorporating some time for yourself into each day. While you may not be able to treat yourself to a massage and facial or a trip away every day or week, regularly setting a few minutes aside for even a quiet cup of tea or an at-home mani-pedi can work wonders for your physical and mental health, leaving you better able to face whatever life throws at you. What's your favourite way to pamper and relax? Let us know in the comments below.

Reminder! Get in quick to secure your perfect-date night outfit for Valentine's Day! Enter MYVALENTINE at checkout to score 14% all orders placed before 11:59pm AEDT Wednesday 14 February, 2018